Timeline
I've been interested in biking for a long time -- longer, in fact, than I've been a singer or a web developer -- and I've collected a lot of good memories over the years. To make them easier to remember, I've set aside this page as a personal biking timeline. This probably won't be as interesting to you as it is to me, but it might give you a sense of how the sport has evolved in the last 15 years.
1985 - Discovery
1989 - Competition
1991 - Hibernation
2000 - Renaissance
2010 - Still rolling
---
Summer 1985
Too young to drive, my friends and I spend most of our days riding around our small Iowa town on our bikes -- Huffys, Coast Kings, and the odd Schwinn. Mine is a one-speed, BMX-style bike.
Summer 1986
Greg LeMond becomes the first American to win the Tour de France, but I'm completely unaware of this at the time. I do, however, see an article in Boy's Life describing the setup of a typical racing bike. I lay claim to my mother's old, yellow Schwinn Varsity, my first "ten speed," and remove the reflectors and kickstand to save weight. Riding around town is still a key summer activity for my group of friends.
July 1987
I see an article in the Des Moines Register about the Tour de France; it includes a large photo of Andy Hampsten, wearing a 7-Eleven jersey and riding a bicycle with Huffy logos. (Although still oblivious to the functioning of modern cycling sponsorships, I have a funny feeling that's not really a Huffy.) I begin to follow the daily race reports, filled with unfamiliar European names like Charly Mottet and Jean-Francois Bernard.
August 1987
I subscribe to the now-defunct Cyclist magazine, just in time for the Tour de France wrap-up issue. It features Luis Herrera, wearing the polka-dot "best climber" jersey, on the cover. Impressed by my continued enthusiasm for the old Varsity, my parents take me to Letsche's Bike Shop in Cherokee, Iowa for a bike of my own. We end up with a used Schwinn World, with quick-release wheels, toe clips, and a cyclocomputer. I begin thinking of Herrera whenever I ride it up a hill. High school begins.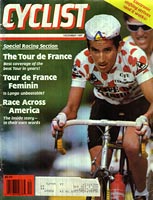 June 1988
Goofing off with my friends is replaced by a summer job, but I get into the habit of taking fast rides by myself every day after work. I order a La Vie Claire cap from Bike Nashbar and wear it everywhere.
July 1988
I go to the library every day to check the Tour results in the Des Moines Register. Pedro Delgado wins; I don't remember who I was rooting for, but it wasn't him. I acquire my first pair of cycling shorts, and attend a couple club rides in nearby towns.
Fall 1988
I write fan mail to Andy Hampsten, and he replies! I give away my La Vie Claire cap, but pick up a Team Crest jersey in honor of domestic pro Alexi Grewal. And although the frame is much too large for me, my stepdad offers me the use of his Schwinn LeTour -- a slightly better bike than the World, with a controversial new addition: indexed shifting!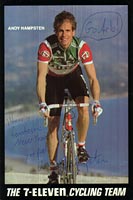 (The front reads, "Go Arlo!
Have a fantastic new year.
Yer pal, Andy Hampsten.")
April 1989
Aware of some nearby citizen's races, I start training as soon as daylight savings time begins. (Training at this point consists of riding 20 miles in the shortest possible time.) I acquire a pair of Duegi cycling shoes and a state-of-the-art Avenir foam helmet.
June 1989
I participate in my first races, 15-mile affairs with one or two dozen riders, and do all right -- usually top three in my age group. I add a pair of Look clipless pedals to my Schwinn.
July 1989
Greg LeMond wins the Tour de France, and this time I'm fully aware of what's happening. LeMond is a hero to me and some newfound cycling buddies! I train harder, targeting the annual Iowa Games road race in August.
August 1989
I participate in the Iowa Games road race, a 55 mile, very hilly event with about 150 competitors. I finish, exhausted, about 45 minutes behind the winner. Since I'm still too young to drive, my mother takes me to the race and hands me a Snickers bar in the feed zone -- we haven't heard of PowerBars yet!
Fall 1989
Stung by defeat but inspired to improve, I purchase a secondhand windtrainer (which I still use) and a copy of Eddie B.'s book, Bicycle Road Racing. Greg LeMond ends his comeback year with a World Champion title and becomes cycling's biggest star. My high school French teacher shows a videotape of his Tour victory in class.
Winter 1989
Using Eddie B.'s book as a guide, I assemble a day-by-day training plan for the entire season, with the Iowa Games road race as my goal. Training at this point consists of interval and endurance work on the windtrainer, weightlifting, and self-administered massage. I also subscribe to VeloNews, and absorb all the latest information about nutrition and riding technique.

April 1990
After working as an architectural draftsman after school all year, and requesting cash instead of Christmas presents, I purchase a brand-new Trek 1400 from Lakeshore Cyclery in Storm Lake, Iowa. This is one of the most exciting days of my teenage years! The bike has a 6061-T6 aluminum frame and fork, the newly redesigned Shimano 105 groupset, aero rims, and color-coordinated Look pedals. Yeeha!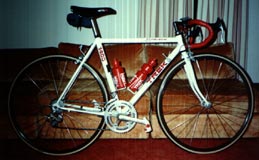 June 1990
While working as a lifeguard at the city pool, I often take a moment to gaze at my ever-enlarging calf muscles. Training continues.
July 1990
While riding RAGBRAI with my best biking buddy, Jeff Hankens, we spot a pair of red and white Sara Lee jerseys in a bargain rack. We buy them and fancy ourselves teammates. Also, Jeff sells me his Oakley "Tour de France edition" sunglasses, and I feel so cool. The third PowerBar flavor, Wild Berry, is introduced, sparking serious debate (I remain loyal to Malt Nut). LeMond wins the Tour again, but everyone knew he would.
August 1990
The Iowa Games road race arrives, and this time I'm ready. I survive the hills and take first place in a bunch sprint! The following week, I travel with my family to Colorado to visit colleges; I take my bike along and do a few rides around Colorado Springs and Boulder.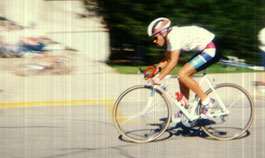 September 1990
Riding high after a third tour victory, Greg Lemond comes home for a small criterium in downtown Minneapolis. Jeff, another local cyclist named Carl, and I drive to Minneapolis for the crit. Most of the fifty thousand spectators have only recently heard of Greg and don't know much about him; we, however, quickly spot his rainbow jersey and score autographs before the race begins!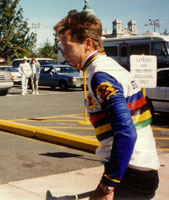 October 1990
The high school cross-country coach convinces me that I'd be a good runner, since I'm a good cyclist. I'm up for a little cross training, and join the team -- but I suck at running.
Spring 1991
At the photo shoot for my senior pictures, I take some with my bike and full racing gear.
April 1991
I join the USCF and ride my first races as a classified amateur. I hang in the pack just long enough to be mocked for not having shaved legs, then get dropped at the first acceleration.
Early June 1991
Not realizing that the USCF license is binding for one year, I enter a hilly citizen's race in Nebraska. I'm able to hang with the pack here, and figure I'm not ready for the USCF. However, disaster strikes halfway through the race -- I go down in a crash and break my collarbone.
Late June 1991
Back home, I contemplate my bumpy season, and decide to aim again for the Iowa Games road race. A local sports therapist tells me I need six weeks to heal my collarbone. The Iowa Games are seven weeks away. Training begins under his supervision.
July 1991
I ride portions of RAGBRAI with Jeff Hankens, and we plot a two-person coup of the Iowa Games. Jeff even talks me into shaving my legs for the event. Miguel Indurain wins the Tour de France, but nobody knows who he is.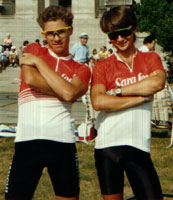 August 1991
After a tough two months, I ride the Iowa Games road race with a shoulder brace under my jersey. Jeff and I initiate a four-man break that stays clear to the end. I try to lead out Jeff for the finish, but jump too hard and end up taking first place myself, with him right behind. The pack is so close at the finish that they swallow the other two members of the break. I'm elated to have won two years in a row! But at the awards ceremony that night, I learn that I'm still considered a USCF rider, and am disqualified from the citizen's race. Although my morale is badly shaken, the race organizers give me an extra gold medal, and the bonus is that my buddy Jeff earns the real gold!
September 1991
College begins, not in Colorado but at the academically better-ranked Grinnell College. Although I make room for my Trek even in the tiniest of dorm rooms, I only ride a couple times a month.
Summer 1993
A college friend with an interest in cycling motivates me to start training again. We do some citizen's races together. In one race, I take an exciting victory from a three-man break despite having left my water bottles at home! Our training is inspired by Lance Armstrong, who turns pro this year and wins the Thrift Drug "triple crown," a stage at the Tour de France, and the World Championship road race. But when the next semester starts, cycling goes on the back burner again.
July 1995
My beloved Trek is stolen from my off-campus apartment! Argh!!! I wander the town for two weeks looking for my old friend, and finally buy a $50 Schwinn Traveler for temporary transportation.
August 1995
I spot a carbon-fiber monocoque Trek 5000 on clearance sale at Haack's Cycle in Madison, Wisconsin. I return an hour later with a credit card. The bike is mine, and it's a beautiful machine.
September 1995
Finished with college, I move to Madison, where I take casual training rides on the 5000 a couple times a week. And I continue using the Traveler for daily commuting and all my errands in this bike-friendly town.
November 1995
I receive a call from the Grinnell police department. They've recovered my Trek 1400! The accessories were removed, the serial number was ground off, and it was beaten pretty badly, but my once prize possession is back. I learn a lot about bike repair by fixing it up again, and turn it into my "around town" bike to replace the Schwinn.
August 1998
I move to Chicago to advance my music career, and, judging by the size and congestion of the city, figure my cycling days are pretty much over.
Summer 1999
Lance Armstrong recovers from cancer and wins the Tour de France.
June 2000
I discover the bicycle route map published by the Chicagoland Bicycle Federation, and believe it or not, there are tons of great places to ride in Chicago. I unpack my bike gear and start exploring. I also ride the Boulevard Lakefront Tour and the Late Ride, and start eating lots of Clif Bars after getting free samples at both of those events.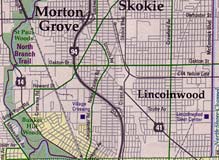 July 2000
I watch a night of racing at the Northbrook Velodrome, while Lance Armstrong wins his second Tour.
Summer 2001
I take my first ride through the Northfield forest preserve and fall in love with the place! I realize how ratty my old equipment has become, and order new shoes, shorts, and gloves. I also order an ONCE jersey, in honor of my favorite rider of the '90's, Laurent Jalabert (who left ONCE the year before, but that's okay). Lance keeps winning.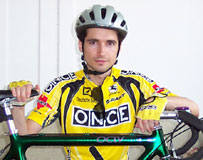 Fall 2001
I'm experiencing a full-fledged cycling renaissance, and subscribe to CycleSport magazine for a monthly fix.
January 2002
I finally do something I should have done when I was racing: purchase a set of rollers and learn to ride them. I alternate between riding the rollers and the windtrainer as the days get longer.
Summer 2002
I ride three or four times a week, with weekend rides taking me as far south as Indiana and as far north as Wisconsin. Impressed with the young Oscar Sevilla, I add a Kelme jersey to my wardrobe. And I realize how popular Lance Armstrong has become -- during training rides in July, people yell "Go Lance!" as I pass by. The man doesn't disappoint, with a fourth consecutive Tour win.
August 2002
I move to a new apartment that's on the same block as a large bike store. Aware of the financial risks involved in that situation, I decide to only buy things that are on sale, or things that I really need. (smile)
January 2003
I launch this website to wile away the winter hours. Laurent Jalabert has retired, but Botero looks good for the coming season, and Cipollini will be racing with the rainbow jersey on his back. I still ride my eight year old Trek 5000 (now attached to my 14 year old windtrainer), but consider upgrading its wheels and fork. And I have plans to travel to Ontario next fall to watch the World Championships in a rare North American venue. It's going to be a great year!
October 2003
I take a week off work and drive to Ontario to watch the World Cycling Championships. What a trip! I saw seven days of racing, from the grandstand as well as all around the course. I even rode the course the first day, as the juniors were arriving and warming up. For a glimpse of the action and close-ups of some big stars, check out my photo album from the trip.
May 2010
Although I've kept my ride diary up to date since building this site, I haven't added to this timeline since then. I've been busy, among other things, starting two businesses, becoming a music teacher and getting married. But I've still been riding, and following racing, with as much passion as ever -- for example, I remember checking the results of the 2006 World Road Championships before leaving the house for my wedding, and seeing that Paolo Bettini had won his first rainbow jersey. Perhaps the most significant change from a cycling perspective is that last summer my wife and I moved to Portland, Oregon, one of the most bike-friendly cities in the USA. House projects and business activities have kept me from fully taking advantage of this new setting, but the riding possibilities are huge. Spectating possibilities are pretty good, too, as I found when making a weekend trek to the Tour of California this month. I scored autographs from my current favorite rider, Roubaix/Flanders double champion Fabian Cancellara, and his teammate Andy Schleck; you can see my photos here.